It's summertime! It's the time of year when school's out, vacations are in order, and books are in our hands, luggage, or shopping carts. Whether you're looking for a book to bring to the beach, on your flight, or when you desperately wish to travel, our Muslim Girl Summer Reading List is here to recommend books by some amazing Muslim authors! 
Literary Fiction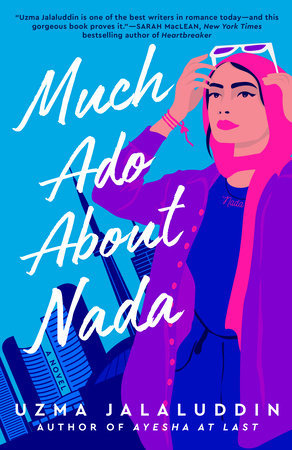 Much Ado About Nada by Uzma Jalaluddin is a second-chance romance about Nada Syed, who is pushing thirty and not exactly where she wants to be in life. She's still unmarried, living with her family, and feels stuck in her career. She desperately wants a change but can't seem to let go of the past that's anchoring her down. Nada's best friend Haleema is trying to help her by encouraging Nada to attend the annual Muslim conference in Toronto. At this conference, Nada comes across Baz, Haleema's brother-in-law to be, whom she has a history with. At the conference, the past comes out along with complex feelings and epiphanies. If you're looking for a story about letting go and accepting change, check out this new book by critically acclaimed and bestselling novelist Uzma Jalaluddin.
The Marriage Clock  by Zara Raheem follows Leila as she navigates, wanting to find "The One," Bollywood style, while being pressured to appease her traditional Indian parents' wishes for her to be married. Leila gets a 3-month deadline to find the man of her dreams on her own before her parents consider setting her up with an arranged marriage. The clock is ticking, and Leila's getting nervous. If you're looking for a romcom rooted in the Muslim American and South Asian experience, check out this debut novel by Zara Raheem. 
A Place for Us by Fatima Farheen Mirza is an exploration of an Indian and Muslim American family as they gather back together for a wedding. Through multiple-perspective storytelling, A Place for Us provides us glimpses into the lives of Rafiq and Layla – the parents, Hadia – the eldest daughter, Huda – the middle child; and Amar – the youngest and estranged. As the family reunites for Hadia's wedding, the family's secrets and reasons for breaking apart come to fruition, and they are forced to reckon with where to go from there. If you're interested in a heartfelt story centered around family dynamics,  identity, and belonging, Fatima Farheen Mirza's A Place for Us is for you. 
Young Adult Fiction
Love From A to Z by S. K Ali follows Adam and Zayneb as they perceive life through marvels and oddities. The two cross paths at an airport; thus, their love story begins…through friendship and long distance. S. K Ali's Love From A to Z is a halal love story that will melt your heart and make you ponder the innocence and beauty of young love. It's so cute, and the Muslim representation is some of the best there's ever been in fiction. Plus, there's a sequel (Love from Mecca to Medina) if you want more of Zayneb and Adam!
You Truly Assumed by Laila Sabreen is a story of three Black Muslim girls who create a digital space to support their community in light of a terrorist attack that brings forth anti-Islamic sentiment. Laila Sabreen's debut novel is an inspirational story about faith and identity, specifically through the Black and Muslim experience, and the importance of youth having their voices heard.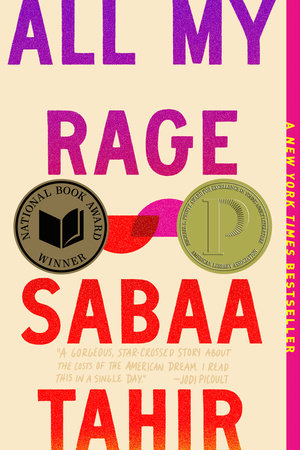 All My Rage by Sabaa Tahir goes back and forth between two timelines: THEN in Lahore, Pakistan, and NOW in  Juniper, California. In Lahore, we follow Misbah as she marries and moves to the United States to start a new life. In California, we follow Salahudin and Noor, two best friends, amid a giant fight. The two dealing with their own struggles without each other's presence shows how much they've relied on each other throughout the years. Sabaa Tahir's All My Rage is a tragic and tender novel about family, dreams, forgiveness, and love. 
Fantasy 
We Hunt the Flame by Hafsah Faizal is set in a world inspired by ancient Arabia centered on discovery, conquering fear, and identity. Zafira is the Hunter who is disguising herself as a man to feed her people. Nasir is the Prince of Death, assassinating anyone who defies his father, the oppressive sultan. Zafira takes on the mission to uncover a lost artifact that can restore magic to her people and stop the Arz from taking over, but Nasir is sent by his father to do the same, except with one caveat – kill the Hunter. Their journey unfolds with a grand twist that poses a threat neither of them can imagine. We Hunt the Flame is the first book in the Sands of Arawiya collection and Hafsah Faizal's debut. 
An Ember in the Ashes by Sabaa Tahir follows Laia, a slave, and Elias, a soldier, in a world inspired by ancient Rome where neither of them is free. Living under the Martial Empire, rebellion against its power is a death sentence. Those who do not serve the Emperor risk the loss of their loved ones and invite all the horrors into their lives. Laia and Elias meet within the Empire's military academy, where they realize that fate has brought them together and their choices have the capacity to change the Empire's wrath. This dystopian and fantasy hybrid by Sabaa Tahir is a page-turner and great for escaping into another world! 
This Woven Kingdom by Tahereh Mafi is a story inspired by Persian mythology, where a long-forgotten queen is destined to save her people. Alizeh is seen as a lowly servant, not the long-lost heir to an ancient hidden Jinn kingdom. Prince Kamran has heard the prophecies foretelling the king's death. Kamran never expected Alizeh to be the one to cause uproar in the kingdom. This story of forbidden love and detailed world-building is the first book in the trilogy by Tahereh Mafi.
Poetry & Nonfiction
Prayers of My Youth by F.S Yousaf is a poetry collection by F.S. Yousaf which centers around faith, youth, and identity. Prayers of My Youth are uniquely structured in each part named after a part of the Islamic prayer process: ablution, iqama, salaah, and salaam. His poetry touches on his upbringing as well as reflections on life itself. 
Waterlogged by Asia Khatun is a debut pamphlet that provides a glimpse into the lives of the South Asian diaspora. Asia Khatun's poetry surrounds themes of faith and spirituality, mental health, and generational trauma. Her beautiful poems represent her experience growing up with a Muslim and South Asian identity.
Laughing All the Way to the Mosque: The Misadventures of a Muslim Woman by Zarqa Nawaz is a memoir in which Zarqa Nawaz shares her experience as a practicing Muslim in the West. She touches on the challenges of explaining Islam to those who don't know about it and the difficulty in navigating the Muslim community gracefully. Zarqa Nawaz uses humor as the basis for telling stories from her life and how being a Canadian Muslim is both challenging and rewarding in the best way. 
My Past is a Foreign Country: A Muslim Feminist Finds Herself by Zeba Talkhani is a memoir in which Zeba Talkhani shares her experience growing up in the Middle East and embarking on a journey to find freedom in India, Germany, and the UK.  She discusses rejecting the traditional and cultural path, navigating her relationship with her mother, getting married on her own terms, and finding herself and coming into identifying as a Muslim feminist. 
Tag us @muslimgirl to show us what you're reading this summer!